2023 Japan Battery Exhibition/one of the three battery exhibitions
Industry:

Chemical / Energy / Environment

Cycle:

Once a year

Time:

2023/09/13 - 09/15 (Wed To Fri Total 3 Days) Error Correction

Address:

Tokyo · Japan Tokyo Big Sight International Exhibition Center JapanTokyo 3-21-1 Ariake, Koto-ku, Tokyo 135-0063, Japan

Sponsor:

Reed Exhibitions Japan Co., Ltd

Organizer:

Reed Exhibitions Japan Co., Ltd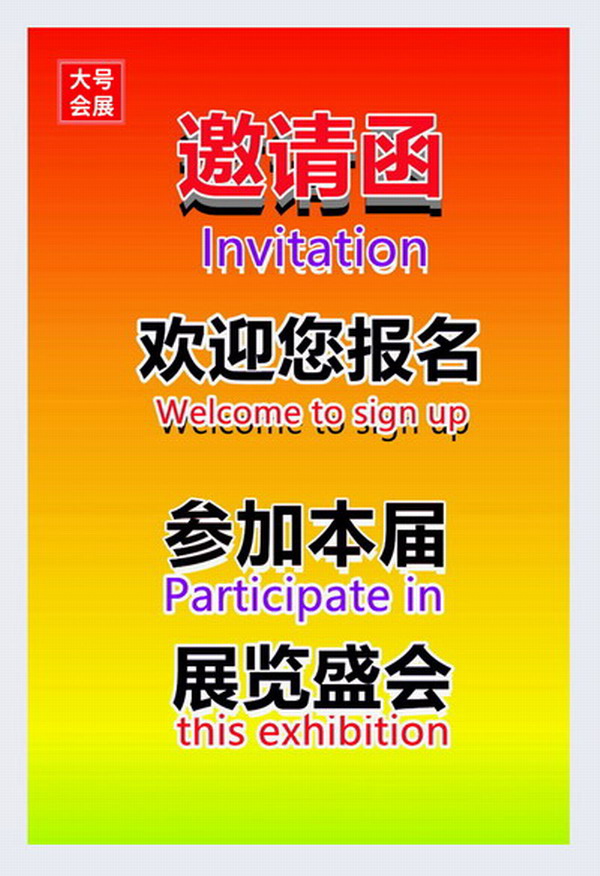 BATTERY JAPAN 2023

Exhibition time: March 15-17, 2023; Tokyo BIG SIGHT
Exhibition time: September 13-15, 2023; Chiba Muzhang Exhibition Hall
Exhibition scale: about 1200 exhibitors; Number of visitors: about 50000;
Organizer: Reed Exhibitions Japan Co., Ltd
Organizer: Shanghai Maosheng Exhibition Service Co., Ltd. - Japanese exhibition service provider
Exhibition introduction
Founded in 2010 and held annually, BATTERY JAPAN is one of the three major exhibitions in the world battery industry, with 340 exhibitors participating in 2021. The exhibition gathers secondary batteries, capacitors, various related high-end technologies, materials, components and advanced equipment. At the same time, an international technical seminar will also be held. The industry exhibitors are from well-known enterprises, which has attracted relevant visitors from secondary battery manufacturers, battery users, new generation automobile manufacturers, electronic manufacturers, etc. and world renewable energy experts.
"BATTERY JAPAN" was held simultaneously with "FC EXPO", "PV EXPO", "SMART GRID EXPO", "WIND EXPO", "BIOMASS EXPO" and "THERMAL POWER EXPO", It is collectively called Japan International Smart Energy Week. It is divided into seven world-class energy exhibition areas and technology conferences, covering the fields from power generation, energy storage, energy distribution to intelligent/renewable energy related applications and technologies, with a wide range of contents.
Hold exhibitions at the same time
1. FC EXPO Hydrogen and Fuel Cell Exhibition
FC EXPO is the largest hydrogen fuel cell exhibition in the world. A leading international exhibition that showcases various technologies, components, materials, equipment and finished fuel cells for hydrogen and fuel cell R&D and manufacturing.
2. PV EXPO Solar PV Exhibition
PV EXPO is the largest photovoltaic industry exhibition in Japan. New technologies, materials, manufacturing technologies and solar cells/modules will be exhibited worldwide.
3. BATTERY JAPAN Secondary Battery Exhibition
BATTERY JAPAN is the world's leading international exhibition of rechargeable batteries, showcasing various components, materials, equipment and finished rechargeable batteries for research, development and manufacturing of rechargeable batteries.
4. SMART GRID EXPO Smart Grid and Energy Storage System Exhibition
SMART GRID EXPO is the largest international smart grid and energy storage system exhibition in Japan, which showcases various cutting-edge technologies and products related to smart GRID and SMART community.
5. WIND EXPO
WIND EXPO is the largest wind energy exhibition in Japan. From components, equipment, various services to wind turbines... a variety of cutting-edge products and technologies will be displayed.
6. BIOMASS EXPO:
BIOMASS EXPO is the largest biomass power generation exhibition in Japan. An exhibition dedicated to biomass power generation and its related equipment, technology and services.
Advantages of our exhibition organization:
1. Good booth location and price advantage.
2. Overseas travel, hotel accommodation and other arrangements have always been preferential, reasonable and convenient, which has been highly praised by the majority of exhibitors and business inspection enterprises!
3. Professional team leaders with years of experience in operation and outreach and familiar with local national conditions.
4. From booth confirmation to booth construction, exhibition product transportation and business visa training and subsidy handling, the company has a one-stop service concept to build a Diyi brand in the exhibition service industry!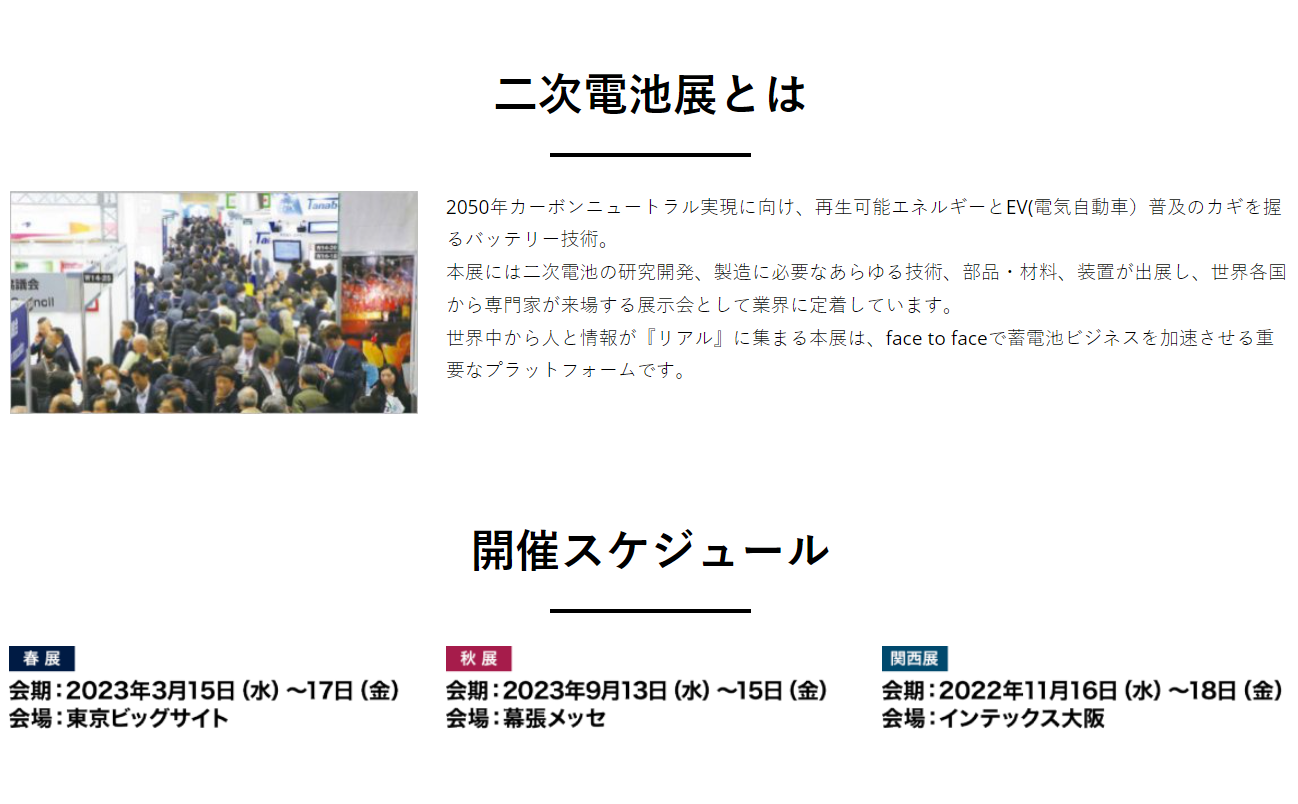 Scope of exhibition
Part material area: positive material; Negative electrode material; Electrolyte and electrolyte; Isolation membrane; Collector; Top plate; Safety valve; Electrode foil; Insulating pipe; Activated carbon; Ionic aqueous solution, etc
Battery area: lithium ion battery; Nickel metal hydride battery; Nickel cadmium rechargeable battery; Lead storage battery; Air battery; capacitor; Sodium sulfur battery, etc
Capacitance area: double layer capacitor; Lithium ion capacitor; Hybrid capacitor; Oxidation reduction capacitor; Electrolyte capacitor, etc
Production equipment area: grinder; Mixing machine; Coating equipment; Dryer; Coiler; Slice cutting equipment; Press; Electrode assembly equipment; Electrode plate coiler; Electrode stack equipment; Electrolyte injection equipment; Laser welding machine; Battery packaging equipment; Charging equipment, etc
Test and evaluation area: flowmeter; Charging and discharging test equipment; Insulation tester; Life testing machine; Impedance tester; Internal resistance tester, etc
Please contact the exhibition organizer for confirmation before participating in the exhibition.
Company:Shanghai Maosheng Exhibition Co., Ltd
Telephone:18912623923
Truename:Wu Chengsong
Mobile:18912623923
E-mail:584301896@qq.com
Address:3-21-1 Ariake, Koto-ku, Tokyo 135-0063, Japan