2023 The 15th Guangzhou International Roof and Wall Materials and Building Waterproofing Technology Exhibition
Industry:

Construction / Decoration / Hardware

Cycle:

Once a year

Time:

2023/05/15 - 05/17 (Mon To Wed Total 3 Days) Error Correction

Address:

Guangdong Guangzhou Poly World Trade Expo ChinaGuangdong ProvinceGuangzhou CityHaizhu District 1000 Xingang East Road, Haizhu District, Guangzhou

Sponsor:

Association of Asian Building Technology Alliance

Organizer:

Guangdong Hongwei International Exhibition Group Co., Ltd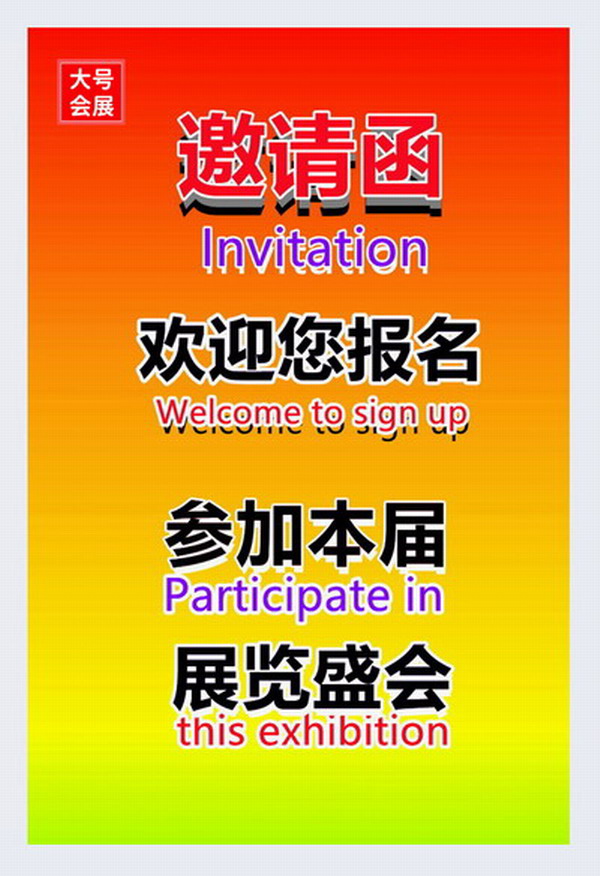 2023 The 15th Guangzhou International Roof and Wall Materials and Building Waterproofing Technology Exhibition

Time: May 15-17, 2023 Place: Guangzhou Poly World Trade Expo
Organizer:
Association of Asian Building Technology Alliance
Integrated Building Committee of CCPIT Construction Industry Branch
Strategic Alliance for Technological Innovation of Green Assembled Rural Housing Industry
Guangdong Steel Structure Association
Guangdong Construction Engineering Green and Assembled Development Association
Prefabricated Building Branch of Guangdong Engineering Survey and Design Association
Guangzhou Construction Industry Federation
Guangdong Hongwei International Exhibition Group Co., Ltd
Co organizer:
Construction Industrialization Branch of China Association of Survey and Design
China Building Standards Design and Research Institute
China Magnesite Industry Association
Fast loading Industry Branch of China Association of Business Economics
China Jinpan Real Estate Development Industry Alliance
China Global Tourism Industry Development Alliance
China Fabricated Construction Network
Guangdong Construction News
Guangdong Wall Material Industry Association
Guangdong Building Materials Green Industry Technology Innovation Promotion Association
Organizing Committee: Lu Feng 156 2601 9944 (WeChat)
CIHIE Review
Brands gather in China Construction Second Engineering Group Co., Ltd., China Construction Third Engineering Group Co., Ltd., China Construction Eighth Engineering Group Co., Ltd., China Construction Steel Structure Group Co., Ltd., Northeast Institute, Shenzhen General Institute, Provincial Academy of Construction Sciences, Guangdong Architectural Design Institute, Guangdong Supervision, Biguiyuan · Boyue Intelligent Construction, General Contracting Group, Hengsheng Construction, Guangzhou Machinery Construction, Donghong Group, Leerju, Baoli Holding Group, Sally Technology, Yitianzhaipin, Jitai Chemical, Tianyi Machinery, Mana Company, Xindi, Jianke Machinery, Yinfeng Machinery Yizhou Machinery, Shandong Railway Construction, Jinggong Steel Structure Group, Duowei Joint Group, Far East Steel Structure, Hangxiao Steel Structure, Guanhua Hangxiao, Wanjun Green Construction, Southeast Grid Structure, Jinxin Green Construction, Yaxin Construction, Huayu Steel Structure, Zhongchen Steel Structure, Fengyuan Steel Structure, Zhongmin Steel Structure, Jianlang Hardware, Yuantaiderun, Shenzhen Hailong, Beixin Group, Art Group, Qicheng Derui, Lijian Liju, Juyi Leader, Meishu Integrated House, Huxi Integrated House Ourui Lvjian, Bolu Youzhu, Jielong Technology, Weilai House, Blue Ocean Yongle, Nine meter Construction Industry, IMBOX, Meizong House, Yangzhou Tongli, Zhujian Integrated House, Boyuan Box House, Dongfang Yuhong, Rijihua, Matsumoto Green, Jinqiang Building Materials, Daquan Group, Carbon Song New Materials, Super New Materials, Efuxi, Speer, MasterCard, Huamei Plate, TEKLA, Nemecek, NORDIMPIANTI, Vertex, PinnacleLGS, Scottsdale Turbosol, Yoshino Gypsum, Marusha Co., Ltd. and other leading enterprises in the field of prefabricated construction at home and abroad all appeared.
participation fee
9 m2 ordinary standard exhibition: 12800 domestic enterprises (RMB)/2800 overseas enterprises (USD), 12 m2 ordinary standard exhibition: 17000 domestic enterprises (RMB)/3600 overseas enterprises (USD), 9 m2 luxury standard exhibition: 14800 domestic enterprises (RMB)/3200 overseas enterprises (USD), 12 m2 luxury standard exhibition: 19000 domestic enterprises (RMB)/4000 overseas enterprises (USD)
Open space
Domestic enterprises (RMB) 1300/㎡, starting from 36 ㎡, excluding any facilities. Exhibitors need to design and decorate by themselves, and charge special decoration according to the regulations of the exhibition hall,
Standard exhibition description: specification: 3mX3m or 3mX4m, including three white hoardings (2.5m high), one negotiation table, two folding chairs, two fluorescent lamps, Chinese and English lintel, trash basket, carpet, 500W lighting socket. In addition to the above configurations, the luxury standard exhibition booth is decorated in a unified way to effectively reflect the overall strength and image of the exhibitors. For double opening booth, another 500 yuan will be charged.
2023 Wall Material Exhibition · 2023 Building Waterproof Exhibition · Asphalt based Waterproof Roll Exhibition · 2023 Sealing Material Exhibition · 2023 Waterproof Coating Exhibition · 2023 Waterproof Material Exhibition · Waterproof Material Complete Equipment Exhibition · Fireproof Insulation Material Exhibition · Waterproof Application Technology Exhibition
Exhibition scope:
1. Asphalt based waterproof coiled material: APP, SBS modified asphalt waterproof coiled material, glass fiber tire, polyester tire modified asphalt waterproof coiled material, self-adhesive waterproof coiled material, colored gravel modified asphalt coiled material, metal foil coiled material, etc.
2. Single layer roof system and polymer coiled material: PVC, EPDM, CPE, HDPE, TPO, rubber plastic blend waterproof sheet and polymer coiled material bonding material, mechanical fasteners, hot air welding machine, roof accessories and batten row, and water falling system, including metal and PVC eaves gutter, gravity downpipe, downhole, siphon water falling system and accessories.
3. Sealing materials: silicone, polysulfide, polyurethane, acrylate, asphalt based sealant, paste butyl sealing materials, acrylic construction sealant, two-component polysulfide sealant, etc.
4. Waterproof coating: single/two-component polyurethane waterproof coating, spray polyurea waterproof coating, modified asphalt waterproof coating, JS composite/silicone waterproof coating, road/bridge deck waterproof coating, environment-friendly acrylate waterproof coating, silicone rubber, asphalt based and cement-based polymer coating, base treatment agent, etc.
5. Rigid waterproof and plugging materials: waterproof agent, polymer waterproof mortar, permeable crystalline waterproof materials, grouting materials, bentonite series and water swelling mastic, permanent setting liquid (DPS), bentonite waterproof board, bentonite waterproof blanket, powdered bentonite and other sodium based bentonite waterproof materials.
6. Planting roof system engineering: root puncture resistant waterproof materials, drainage boards, metal alloy waterproof coiled materials, planting roof system, etc. specially used for planting roofs.
7. Overhead separation materials: plastic drain plate, plastic overhead plate, ecological overhead body, overhead network, grass planting grid, etc.
8. Planting medium: light mixed nutrient soil, light long-term nutrient soil, light humus soil, synthetic soil, etc.
9. Plant materials: lawn, ground cover, arbor, shrub, vine, etc. are generally used.
10. Water storage and drainage: single (double) surface water storage plate, drainage pipe and drainage layer materials.
11. Management and maintenance and supporting materials: special pesticides, herbicides, roof spraying and irrigation, lighting equipment, etc.
12. Thermal insulation and energy-saving materials: building thermal insulation system: all kinds of external wall external insulation system materials, external wall internal insulation system materials, external wall self insulation system materials, EPS plates, EPS external wall insulation, SM, XPS, PSP, etc; Roof waterproof and thermal insulation system and related components, adhesives, alkali resistant glass fiber grid cloth, mechanical anchors, finishing materials and construction supporting equipment, various energy-saving coatings, etc.
13. Thermal insulation and energy saving materials: dry mortar, rock (mineral) wool, glass wool, aluminum silicate fiber, calcium silicate, thermal insulation coating, expanded perlite, expanded vermiculite, expanded polystyrene, extruded polystyrene, foam glass, rigid foam polyurethane, phenolic foam, thermal insulation film, various thermal insulation mortar, etc; Asbestos products, foam asbestos, directly buried pipes, aluminum foil and other external protection insulation materials, color steel plate and other insulation plates and related equipment.
14. Wall materials: curtain wall, stone wall/stone fence, block wall, load-bearing wall, fence, wall forming and pressing equipment, prefabricated concrete works, etc.
15. Tools, equipment and services: UPVC, forming and pressing/rolling equipment, glass assembly, doors and windows, pipes, plate extrusion production equipment, assembly equipment, testing equipment, relevant auxiliary equipment, construction machines and tools, relevant materials, etc.
16. Various solar photovoltaic materials and roof photovoltaic power generation systems: solar roof systems, solar photovoltaic panels, solar photovoltaic films, monocrystalline silicon, polycrystalline silicon cell modules, amorphous cells, silicon based film cells, other film cells, solar photovoltaic tiles, solar photovoltaic coiled materials, solar roof modules, etc.
17. Spray polyurea materials: spray polyurea system technology, pure polyurea, polyurethane urea, polyurea raw materials and additives, finish paint, primer, interlayer interface agent, putty repair, spray polyurea equipment, automatic spraying equipment, nondestructive testing technology and instruments, ultrasonic thickness measurement, spark pin hole detector, aromatic isocyanate, aliphatic isocyanate, amino terminated polyether, aspartic acid resin, adhesion promoter, defoamer Antioxidant, ultraviolet absorber, antistatic agent, catalyst, flame retardant, pigment paste, release agent, mold release agent, high weather resistant aliphatic finish, etc.
18. Waterproof materials for infrastructure and municipal works: road and bridge modified asphalt waterproof coiled materials, waterproof coatings, geomembrane for landfill, waterproof membrane for water diversion works and sewage treatment, and special waterproof materials for subways and tunnels.
19. Metal roof system: metal roof, steel cladding, concrete roof tile, industrial roof solution, PVC roof sheet, building cladding, skylight and dome roof, tensioned membrane structure, corrugated aluminum plate, roof and wall cladding, polycarbonate roof sheet, wall works, roof material processing equipment, asphalt roof, etc.
20. Other energy-saving roof systems and technologies: tile roof ventilation energy-saving system, thermal reflective insulation roof system, breathable waterproof energy-saving roof system, spray foam polyurethane waterproof insulation energy-saving roof system; Gypsum board, gypsum hollow board, light partition slat, light composite insulation block, concrete hollow block, aerated concrete block, gypsum block, hollow glass brick, waterproof gypsum ceiling, waterproof wallpaper, etc;
21. Relevant components and accessories: energy-saving sealing flood belt, ventilating cornice, ventilating ridge, exposed sealing flood belt of tile roof, fireproof board, cement pressing plate, roof fireproof and thermal insulation materials.
22. All kinds of tile materials: asphalt tile (colored glass fiber tile), cement tile, clay tile, metal tile, colored glass tile, PVC tile, colored steel tile, glass fiber tile, roof waterproof board and light pitched roof system.
23. Waterproof cushion materials for sloping roof: asphalt oil paper cushion, coiled material cushion, polymer waterproof cushion, self-adhesive waterproof cushion, waterproof breathable cushion, aluminum foil reflective insulation cushion, corrugated asphalt board ventilation cushion, etc.
24. Raw and auxiliary materials of various waterproof materials: polyester base, glass fiber base, coiled material covering isolation material, colored gravel, asphalt modifier (SBS, APP), petroleum asphalt, polymer chemical raw materials, etc.
25. Complete set of equipment and technology for waterproof materials: production equipment for modified asphalt coiled materials, production equipment for coiled materials and tiles, production equipment for polymer coiled materials, production equipment for waterproof coatings and sealing materials, etc.
26. Construction equipment and application technology for waterproof engineering: used for high-speed railway spraying polyurea base material treatment equipment and auxiliary equipment, shot blasting machine, grinding machine, base material scraper, strong fan, automatic spraying vehicle, barrel mixer, etc.
27. Waterproof engineering system accessories and auxiliary materials, waterproof material testing instruments and equipment, relevant waterproof technology research achievements, management software and waterproof professional books
Please contact the exhibition organizer for confirmation before participating in the exhibition.
Company:Guangdong Hongwei International Exhibition Group Co., Ltd
Telephone:15626019944
Truename:Lu Feng
Mobile:13710285337
Address:7th Floor, Building C, Poly World Trade Center, No. 1000, Xingang East Road, Haizhu District, Guangzhou