2023 Japanese Kitchen Tableware Exhibition
Industry:

Travel / Hotel / Catering

Cycle:

Once a year

Time:

2023/04/05 - 04/07 (Wed To Fri Total 3 Days) Error Correction

Address:

Tokyo · Japan Tokyo Big Sight International Exhibition Center JapanTokyo 3-21-1 Ariake, Koto-ku, Tokyo 135-0063, Japan

Sponsor:

Youming Exhibition Hall, Tokyo, Japan

Organizer:

Youming Exhibition Hall, Tokyo, Japan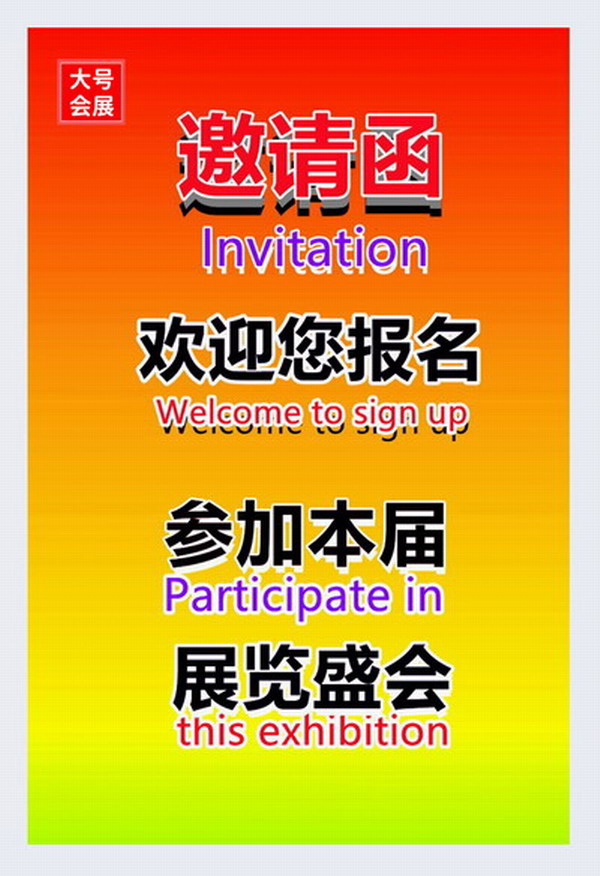 2023 Tokyo International Tableware&Kitchenware Exhibition; KITCHEN WARE EXPO

essential information:
Exhibition time: April 05-07, 2023 - Youming Exhibition Hall, Tokyo, Japan
Sponsored by Reed Exhibitions Japan Ltd
Exhibition area: 30000 square meters, 800
Exhibition introduction:
Tokyo Tableware&Kitchenware Exhibition is a perfect place for one-stop purchase of western tableware, Japanese tableware, lacquerware and tableware, cooking equipment, kitchen appliances and kitchen appliances. In recent years, the demand for professional kitchen products in department stores, specialty stores, indoor stores, gift stores, tableware and kitchenware stores has increased dramatically. With the growth of market demand, the exhibition of tableware and kitchenware has attracted more attention. The products on display in this exhibition cover all tableware and kitchenware. All kinds of importers, wholesalers and brick buyers gathered here, which is a great platform for you to open up the Japanese market! The products on display in this exhibition cover all kinds of tableware and kitchenware, and it is a trade exhibition of Japan's Du Yiwu2. Now more and more Chinese enterprises are also paying attention to the Japanese market. From the perspective of the exhibition effect, the domestic exhibitors are very satisfied with the effect of this exhibition, and all said they would participate in the exhibition in the coming year.
Highlights:
The organizer will also hold various activities to strengthen the interaction between buyers and exhibitors, such as matching activities between exhibitors and buyers, and various forums, which are of great significance for you to understand and develop the Japanese market. The highlight of Zui is the promotion of e-guidebook. All exhibitors can publicize their products through e-guidebook exhibition website. Buyers participating in the exhibition will search your company introduction by browsing the exhibition website. This creates a good opportunity for buyers to agree on a business negotiation time with you before the exhibition.
Audience Source:
Retailers/dealers, food and kitchen appliance stores, toy stores, clothing stores, gift stores, department stores, gift stores, Beijing stores, large retailers, online shopping malls, daily grocery stores, supermarkets, wholesale and import and export companies
Advantages of our exhibition organization:
1. Good booth location and price advantage.
2. Overseas travel, hotel accommodation and other arrangements have always been preferential, reasonable and convenient, which has been highly praised by the majority of exhibitors and business inspection enterprises!
3. Professional team leaders with years of experience in operation and outreach and familiar with local national conditions.
4. From booth confirmation to booth construction, exhibition product transportation and business visa training and subsidy handling, the company's one-stop brick service concept is to build a brand in the exhibition service industry!
One of the three major brands of Japanese cooking utensils - Kanda Snow Flat Pot
Since 1965, the inheritance of Kanda's pot has lasted for half a century. As a famous brand for 50 years, Kanda has a market share of more than 90%. Their pots are not only the favorite of Japanese housewives, but also favored by many foreign food lovers. Each pot of Kanda comes from the most famous metal processing and production place in Japan - Niigata Yantiao. Niigata is a famous metal and kitchen origin in Japan. 80% of high-grade metal kitchenware in the Japanese market comes from here, It is one of the regions with a high level of kitchenware production in the world. Every pot is carefully forged by professional Japanese craftsmen ?
Exhibition scope:
1. Tableware: Japanese tableware, lacquerware, ceramic and metal accessories, tea sets, glassware, tea mats, tablecloths, lunch mats, decorations, vases, table accessories
2. Kitchenware: pots, roasting pans, stewing pans, pressure pans, casseroles, knives, scissors, chopping boards, measuring cups, kettles, steel ladles, peelers, kitchen paper, cloth, lunch boxes, bottles of water, cups, cups, silicon cups, mixing rods, storage containers, coffee/tea sets, water pitchers, aprons, gloves, dish mats, bottle openers, beer servers, garbage boxes, dusters, etc
3. Kitchen appliances: microwave oven/electric oven, electric rice cooker, kitchen timer, electric kettle, electric cooker, coffee maker, motor, mixer, bakery, IH pot, electric hot plate, stove burner, garbage disposal, etc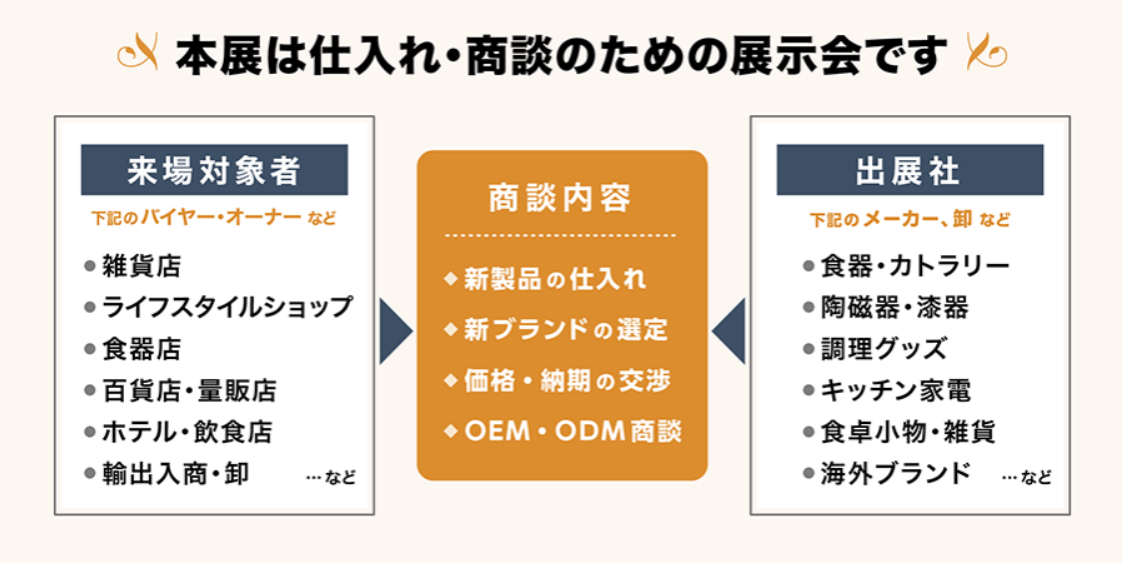 Please contact the exhibition organizer for confirmation before participating in the exhibition.
Company:Shanghai Maosheng Exhibition Service Co., Ltd
Telephone:18912623923
Truename:Wu Chengsong
Mobile:18912623923
E-mail:584301896@qq.com
Address:3-21-1 Ariake, Koto-ku, Tokyo 135-0063, Japan