Building Materials and Decoration Materials Exhibition of the 14th Wuhan Construction Expo 2023
Industry:

Construction / Decoration / Hardware

Cycle:

Once a year

Time:

2023/03/21 - 03/23 (Tues To Thur Total 3 Days) Error Correction

Address:

Hubei Wuhan International Expo Center ChinaHubei provinceWuhanHanyang District No. 619, Yingwu Avenue, Hanyang District, Wuhan

Sponsor:

Hubei Chushang Federation, Hubei Building Materials Market Management Association

Organizer:

Hubei Chushang Federation, Hubei Building Materials Market Management Association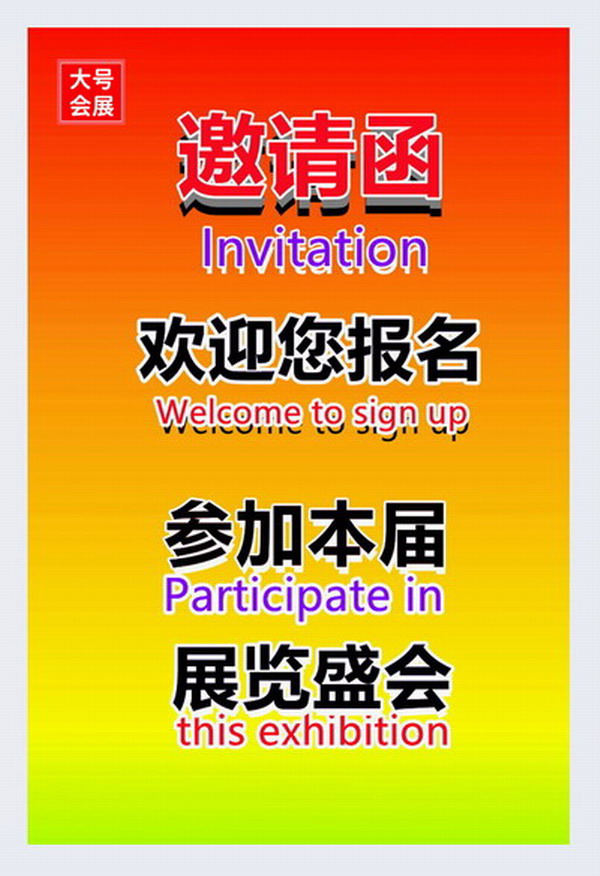 "The whole industry chain" trade exhibition of China (Wuhan) large home furnishing industry---

2023 The 14th Wuhan International Green Building Materials and Decorative Materials Expo
2023 The 14thWuhan International Green Building Materials and Decoration Materials Expo
21-23 March 2023Wuhan International Expo Center (Hanyang)
Special exhibition:
The 14th Wuhan Construction Expo 2023 Ultra low Energy Consumption Building Industry Exhibition
2023 The 7th Wuhan Residential Industry and Building Industrialization Technology and Equipment Exhibition
The 13th Hubei Wuhan Door and Window Exhibition in 2023
2023 The 13th Wuhan All house Customized Home Building Materials Decoration New Products Investment Exhibition
The 14th Wuhan Building Energy Saving and New Building Materials Exhibition in 2023
2023 The 5th Wuhan Construction Formwork Scaffold and Construction Technology Equipment Exhibition
2023 The 6th Wuhan Flooring, Sports Ground and Flooring Exhibition
2023 The 7th Wuhan Roof and Building Waterproof Technology Exhibition
2023 The 3rd Wuhan Smart Building and Smart Home Exhibition
The 14th Wuhan HVAC Heat Pump Fresh Air and Water Purification Exhibition in 2023
Organizer:
Hubei Chushang Federation, Hubei Building Materials Market Management Association
Hubei Province Building Energy Conservation Association, Hubei Province Steel Structure Association
Hubei Interior Decoration Association, Hubei Flooring Industry Association
Hubei Wall Material Industry Association, Wuhan Construction Safety Association
Hubei Building Waterproof Association, Wuhan Home Furnishing Association
Hubei Construction Labor Association, Wuhan Bonding Society
Hubei Ceramic Industry Association, Wuhan Door and Window Association, and Wuhan Aluminum Industry Association
Hubei Ready Mixed Concrete Association, Wuhan Concrete Association
Hubei Air Conditioning Engineering Construction Industry Association, Wuhan Refrigeration Society
Wuhan Construction Industry Association, Fabricated Building Branch of Wuhan Construction Industry Association
Wuhan Green Building Materials Industry Association, Wuhan Glass Industry Association
Professional Committee of Building Industry Modernization of Hubei Institute of Civil Engineering and Architecture
Wuhan Dongxihu District Decoration Building Materials Association
Undertaker:
Special Committee for Building Engineering Technology and Green Development of Hubei Association for Science and Technology Progress
Wuhan Vane Exhibition Service Co., Ltd
Wuhan Kaixin Exhibition Co., Ltd
Supported by:
Wuhan Urban and Rural Development Bureau, Wuhan Branch of China Council for the Promotion of International Trade
Hubei Construction Association, Hubei Real Estate Association
Hubei Architectural Decoration Association, Hubei Survey and Design Association
Wuhan Real Estate Development Association, Wuhan Building Decoration Association
Exhibition Overview
In 2020, the gross output value of Hubei's construction industry will reach 1.61 trillion yuan, ranking the fourth in the country, leading the central region for seven consecutive years. According to the blueprint of Wuhan's "Fourteenth Five Year Plan", Wuhan is accelerating the pace of building a national central city. The construction of "five centers", "one main and four auxiliary", Wuhan city circle, subway high-speed bridges, new urban landmarks, old city reconstruction and other regional major projects has been started together, while actively promoting intelligent construction technology. Wuhan Construction Expo is held in Wuhan International Expo Center every spring. After 13 sessions of development, it has become an industry event with a long time of deep cultivation, a wide range of radiation and great influence in central China. Despite the impact of the COVID-19, the 2021 Wuhan Construction Expo will be held in the spring as scheduled. The site of the visit will be popular, and the industry will respond warmly. It will make efforts to contribute to the revitalization of the building materials and home furnishing industry after the epidemic, reflecting the value and responsibility of the industry platform.
The 14th Wuhan Construction Expo 2023 will have an exhibition area of 50000 ㎡, with multi pavilion joint exhibitions. More investment will be made in the organization of professional visitors, and 8 supporting forums will be held in the same period to create a "whole industry chain" trade exhibition of efficient China (Wuhan) home furnishing industry.
Organizational characteristics and promotion
Database invitation.2023 Wuhan Construction Expo has tens of thousands of accurate audience databases and past core buyer lists, and invites professionals through call centers, SMS, Tiktok, Q group WeChat group, WeChat circle of friends, following organizations and other means.
Publicity and promotion.The 2023 Wuhan Construction Expo will also release news or publish advertisements on such professional online magazines as China Construction, China Building Materials Decoration Network, Prefabricated Building Network, China Door and Window Network, Wuhan Construction Information Network, as well as on the exhibition, association's We Media, local Wuhan Evening News, Chutian Metropolis News and other mainstream media, with a space of more than 1000, and comprehensively expand and enhance the influence of this exhibition. At the same time, it has carried out all-round promotion in building materials markets in Hubei Province and similar exhibitions throughout the country.
Visit allowance.The last exhibition successfully implemented the visiting mode of "free shuttle bus and lunch package". During this exhibition, it is estimated that 300 buses will be sent to the construction institutions (building energy efficiency offices) in counties and cities in Hubei Province, building materials markets, home furnishing (business) associations, property developers, designers, engineers, home decoration and large decoration engineering units, to consolidate and expand the scale of group visits, and provide free accommodation for buyers who are far away from home.
Supporting activities.2023 Wuhan Construction Expo is planned to hold several forums at the same time:
2023 Wuhan Intelligent Building and New Building Industrialization Collaborative Development Exchange, 2023 Second Hubei Green Building and Green Building Materials Development Forum, 2023 Hubei Ceramic Industry High Quality Development Forum, 2023 Central Health Home Publishing Index Awarding Ceremony and Health Home Development Forum, 2023 System Door and Window Technology Development Exchange Conference, etc.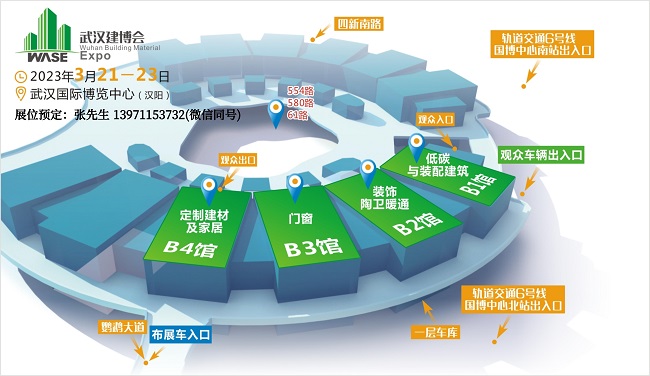 participation fee (Your seats are limited, please book your booth early)
1. The international standard booth is 9 ㎡, and the domestic fee is 7200 yuan/booth. Indoor special booth (starting from 36m2): RMB 800
RMB/m2. The international standard booth covers an area of 9 ㎡, and the overseas fee is USD 2200/booth. Indoor special booth (starting from 36m2): USD 250/m2. (Note: The international standard booth construction configuration includes three side coaming, company name fascia, carpet, one consulting table, two chairs, two spotlights, and one 220V/5A power socket. If special electricity needs to be used, please explain in advance and charge separately. Special booth does not provide any exhibition equipment and facilities, and the special booth management fees, water and electricity fees charged by the exhibition hall shall be borne by the exhibitors themselves.)
2. Technical lecture: The enterprise will charge 5000 yuan for 20 minutes, which will be included in the "forum area", and the details will be available on request.
Exhibition catalogue and exhibition advertising
Journal: In addition to being widely sent to professional visitors during the exhibition, the journal is also sent to professionals from all over the country who cannot visit the exhibition through the powerful database of professional visitors. They can use the journal to quickly find contact methods and service content. (The specification of the exhibition catalogue is 140 ㎜ X210 ㎜, and the advertising fee shall be paid in advance in a lump sum. If the exhibitors cannot participate in the exhibition for some reason, they can directly choose the exhibition catalogue and the exhibition site advertising.)
Advertising position: front cover - 20000 yuan, back cover - 15000 yuan, back cover - 12000 yuan, title page - 10000 yuan, front cover - 10000 yuan, color inside page - 5000 yuan, black and white inside page - 3000 yuan, full page text - 1000 yuan
Other advertisements: 20000 yuan/30000 invitation cards; Visitor card 15,000 yuan/exclusive; Arch 5000 yuan/piece; Truss painting advertisement at the exhibition site 300 yuan/m2 Detailed Information on Request
Participation Procedures
1. You need to fill in the Exhibition Contract, affix the official seal and fax or scan it to the organizing committee of the conference;
2. The organizing committee will arrange the booth according to the principle of "first registration, first payment, first arrangement";
3. You shall pay the booth fee within the period agreed in the Exhibition Contract;
4. You provide the Company Profile (about 300 words), logo, and exhibit pictures for professional audience publicity;
5. You come to the exhibition as scheduled according to the procedures in the Exhibitor Manual.
2023 The 14th Wuhan International Green Building Materials and Decorative Materials ExpoOrganization Office
Address: Room 2216, Fuxing International Chamber of Commerce Building, No. 186 Xinhua Road, Wuhan
Tel.: 027-51669128 QQ: 272265529
Booth reservation: Zhang Kai 13971153732 (WeChat account)
Exhibition scope
1、 Green building assembly
1. Fabricated building PC components/model room, prefabricated design, modular building, factory manufacturing of PC concrete prefabricated equipment, on-site construction, prefabricated structural system, wallboard equipment, integrated toilet, integrated kitchen, integrated storage cabinet and other interior industrial products;
2. New exterior wall decorative panels, various decorative integrated insulation panels, building insulation systems and materials, wall materials and equipment, renewable energy building applications, roof and three-dimensional green materials, building components, and building energy conservation related product systems;
2、 Light steel formwork scaffold
3. Light steel assembly building model house, heavy steel structure house, shelter, mobile toilet, sentry box, camping house, container house, combination house, folding house, modular house and other integrated houses. Light steel keel machine, light steel villa production line, color steel equipment, tile making equipment, etc;
4. Various new formworks, scaffolds, climbing frames, software, equipment and accessories; Scaffold installation system;
5. Building waterproof flooring, waterproof coiled materials, waterproof coatings, waterproof and leak stopping materials, sealing materials, roof technology, new tiles, etc; Floor materials, floor system, art floor, sports ground and floor materials, concrete floor construction equipment, floor machinery, cleaning equipment, etc;
3、 Building materials decoration HVAC
5. Bathroom/ceramic/kitchen supporting equipment, decorative hardware/interior lighting/lighting, background wall, soft wallpaper/fabric accessories, stone carving, decorative paint/diatom mud, plate/floor tile/floor paving materials, integrated ceiling/metal ceiling/flexible membrane ceiling/sunlight board, etc;
6. Heating equipment, air conditioning equipment, fresh air system, water purification, refrigeration equipment and HVAC accessories;
4、 Doors and windows
7. Aluminum alloy doors and windows, system doors and windows, aluminum profiles, automatic doors, sliding doors, fire doors, anti-theft doors, decorative glass, partitions, hardware accessories, sealant, glass curtain walls and equipment;
5、 Customized Home and Door Industry Exhibition
8. Customized furniture, whole wood home decoration, overall space, solid wood skirt wall, stairs, wardrobe and other whole wood customization, wooden doors, sliding doors, side hung doors, sliding doors, art glass doors, integrated furniture, customized household production lines, woodworking machinery and accessories, etc.
Please contact the exhibition organizer for confirmation before participating in the exhibition.
Truename:Zhang Kai
Mobile:13971153732
Address:No. 619, Yingwu Avenue, Hanyang District, Wuhan