March 10-12, 2023 Guangzhou International Art Fair (Guangzhou Pazhou Exhibition Hall)
Industry:

Jewellery / Jewelry / Beauty

Cycle:

Twice a year

Time:

2023/03/10 - 03/12 (Fri To Sun Total 3 Days) Error Correction

Address:

Guangdong China Import and Export Fair (Canton Fair) ChinaGuangdong ProvinceGuangzhou CityHaizhu District No. 380, Yuejiang Middle Road, Haizhu District, Guangzhou

Sponsor:

Guangzhou Jiamei Exhibition Co., Ltd. 15000025450

Organizer:

Guangzhou Jiamei Exhibition Co., Ltd
Notice of 2023 Guangzhou International Fair
2023 Schedule of Guangzhou American Fair - 2023 Guangzhou March Spring American Fair
In the spring of 2023, Guangzhou American Fair CIBE
Welcome to the 2023 Guangzhou Pazhou Fair - Autumn Guangzhou Fair
2023 Guangzhou Beauty and Cosmetics Exhibition - Time and Address of Guangzhou Spring and Autumn Beauty Expo
2023 Guangzhou Spring American Fair March Spring American Fair
Exhibition time: March 10, 2023 to March 12, 2023
Opening Hours: 09:00 - 17:00
Venue: Zone A and B, Pazhou International Convention and Exhibition Center, Guangzhou
Organizer: Guangzhou Jiamei Exhibition Co., Ltd. 150-0002-5450

Exhibition introduction:
The American Fair, formerly known as the Guangzhou International American Fair, was founded by Ms. Ma Ya in 1989. In 2012, Guangzhou International Fair was renamed Guangdong International Fair. In May 2015, the Guangdong International Beauty Expo was officially renamed as "China International Beauty Expo", or CIBE for short. In May 2016, it entered Shanghai for the first time, and in 2019, it waved its stick in Shenzhen. So far, it has formed the layout of six exhibitions a year in Beijing, Shanghai, Guangzhou and Shenzhen, radiating all fields of the beauty industry and the general health industry. In 2020, relying on its advantages, Guangzhou International Live Broadcasting Industry Expo 2020 was built.
Since 2021, the global mega exhibition will become a strong lineup of seven exhibitions a year, namely: March/September Guangzhou International Art Expo, May Shanghai Dahongqiao Art Expo, April/July Beijing International Art Expo, October Shenzhen International Art Expo and Shenzhen International Health and Beauty Industry Expo, and December Guangzhou International Live Industry Expo.
It has been 33 years since the establishment of the Fair. It is the cradle of the birth of a national brand independently founded by the Chinese people, the booster of an international brand, and an industry platform to drive the circular and coordinated development of the industry, representing the wind vane of China's beauty and hair cosmetics industry.
Since its inception, CIBE China International Beauty Expo started from the "professional line", went deep into the professional market of the United States industry, started from the "first tier cities", entered provincial capital cities, went deep into third and fourth tier cities and regions, entered counties, stepped into stores, in-depth communication, obtained first-hand market information, built a resource docking platform for communication and trading between brands and channels, for upstream and downstream of the industry, for both sides of production and marketing, and cultivated the buyer market for 32 years, Accumulated a database of millions of professional buyers.
The exhibition hall in Zone A has famous daily chemicals, imported products, cosmetics, perfume, fragrance, beauty tools, nail and eyelash, personal care, washing, oral care, beauty salons, men's beauty salons and other new popular products; There are also a variety of "sophisticated" categories such as packaging materials, raw materials, machinery and equipment to help you easily achieve one-stop commercial procurement.
In the exhibition hall in Zone B, you can find all kinds of products, such as anti-aging, women's health care, health care, professional beauty instruments, skin care products with light medical and aesthetic effects, skin management, embroidery, and body shaping. There are also international brands (Europe, America, Australia and New Zealand), international brands (Asia) and exhibition groups, domestic excellent brands, and domestic and overseas exhibition groups competing together.
Distribution of exhibition areas
Zone A of China Import and Export Commodity Trade Exhibition Hall
1.1 Daily chemical and theater line OEM, raw materials
2.1 Daily chemical and theater line OEM
3.1 Mechanical equipment
4.1 Packaging materials (inner packaging container)
5.1 Packaging materials exhibition area
3.2 Nail and eyelash beauty
4.2 International exhibition area, imported cosmetics, perfume, cosmetics tools, cosmetics
5.2 Personal care, facial mask, washing, makeup, skin care, scalp care, oral care, hairdressing, daily chemical support services
II. Zone B of China Import and Export Commodity Trade Exhibition Hall
9.2 Anti aging, postpartum repair and private care
10.2 Great health, great medical beauty
11.2 International (Korea Hong Kong Taiwan) South Korea Pavilion, Hong Kong Pavilion, Taiwan Pavilion
12.2 Medical beauty and supporting products, high-end (imported) instruments, medical health exhibition area (assisted reproduction, gene detection, stem cells, high-end nutrition, cross-border medicine, etc.)
13.2 International brands (Europe, America, Australia and New Zealand)
9.3 Curing
10.3 Light medical beauty efficacy skin care products, skin management, body care, franchise, beauty accessories, embroidery, body shaping
11.3 Professional beauty instruments and supporting facilities
Exhibition hall information: Zone A and B of Guangzhou Pazhou International Convention and Exhibition Center
Address: No. 380, Yuejiang Middle Road, Guangzhou Haizhu District, China
Exhibition area: expected to reach 300000 square meters
Period:
Period: twice a year
Spring exhibition March Autumn exhibition September
Number of exhibitors: 3000 expected
Number of visitors: expected to reach 300000
This is an all industry and all channel feast of more than 200000 square meters. The 16+pavilions in Zone A and Zone B are competing for the exhibition of Fanghua. More than 2000 high-quality enterprises are ready to go to a larger, more concentrated and more integrated exhibition stage. Together with professional audiences from all directions, they are working together to create a new beauty industry event - China (Guangzhou) International Beauty Expo
Organizer: Guangzhou Jiamei Exhibition Co., Ltd. 150-0002-5450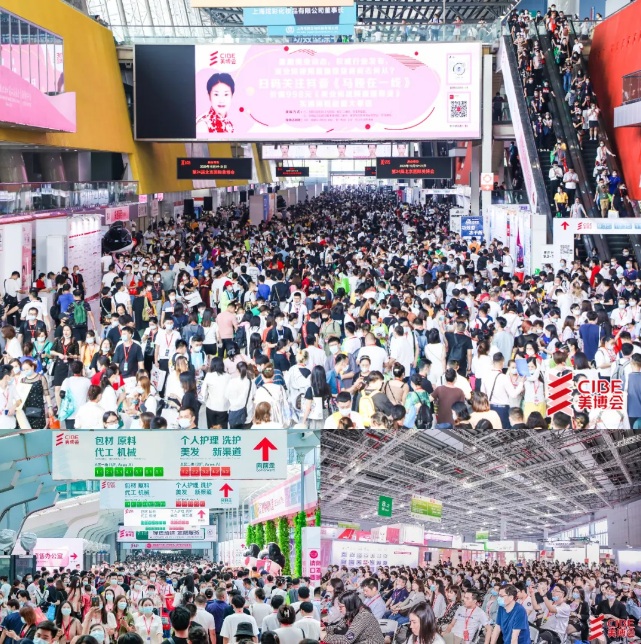 key word:

The 61st Guangzhou American Fair, CIBE American Fair in 2023
2023 Guangzhou American Fair, 2023 Spring Guangzhou American Fair
2023 Guangzhou American Fair Time and Place
Guangzhou American Fair in March 2023, and Guangzhou American Fair in the spring of March
2023 Guangzhou Spring American Fair, Guangzhou Pazhou American Fair
Where will the 2023 Guangzhou American Fair be held
2023 China (Guangzhou) International Fair
Schedule of Guangzhou 2023 American Fair, Guangzhou Autumn American Fair
CIBE Beauty Expo, Beauty and Cosmetics Exhibition, Guangzhou Beauty Expo, and the time of the Expo
The 61st Guangzhou American Fair CIBE, the 2023 Guangzhou American Fair
The 61st Guangzhou American Fair CIBE, the 2023 Guangzhou American Fair
Only the exhibition fee is filled in here, not the contact information!
Company:Guangzhou Jiamei Exhibition Co., Ltd
Telephone:15000025450
Truename:sale
Mobile:15000025450
E-mail:120617079@qq.com
Address:Guangzhou Pazhou International Convention and Exhibition Center