2023 Japan Jewelry Exhibition · Jewelry Exhibition
Industry:

Toys / Gifts / Crafts

Cycle:

Twice a year

Time:

2023/01/11 - 01/14 (Wed To Sat Total 4 Days) Error Correction

Address:

Tokyo · Japan Tokyo Big Sight International Exhibition Center JapanTokyo 3-21-1 Ariake, Koto-ku, Tokyo 135-0063, Japan

Sponsor:

Reed Exhibitions Japan Co., Ltd

Organizer:

Japan Jewelry Association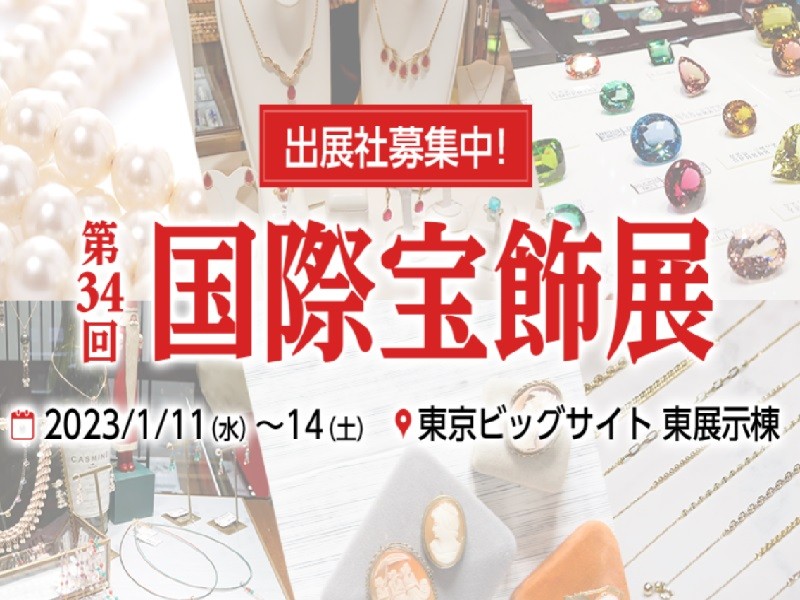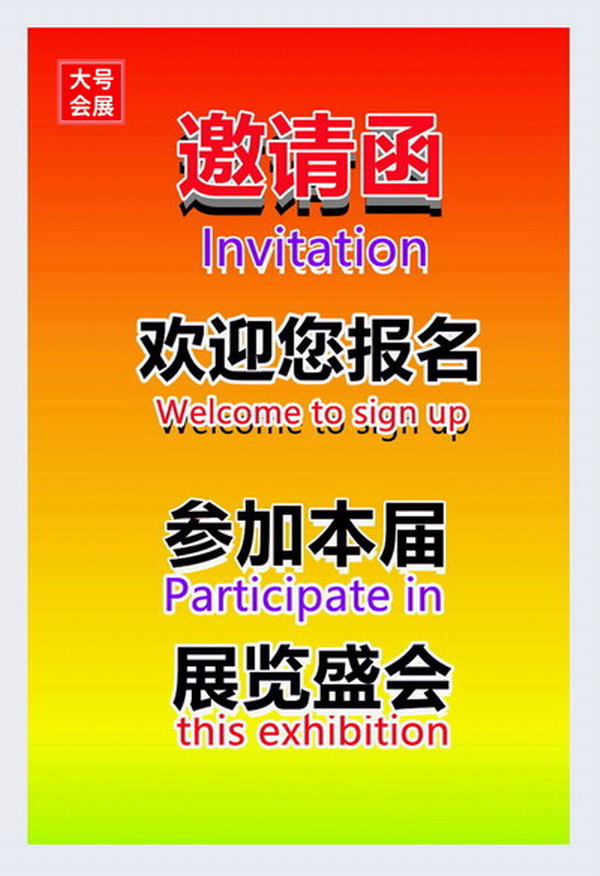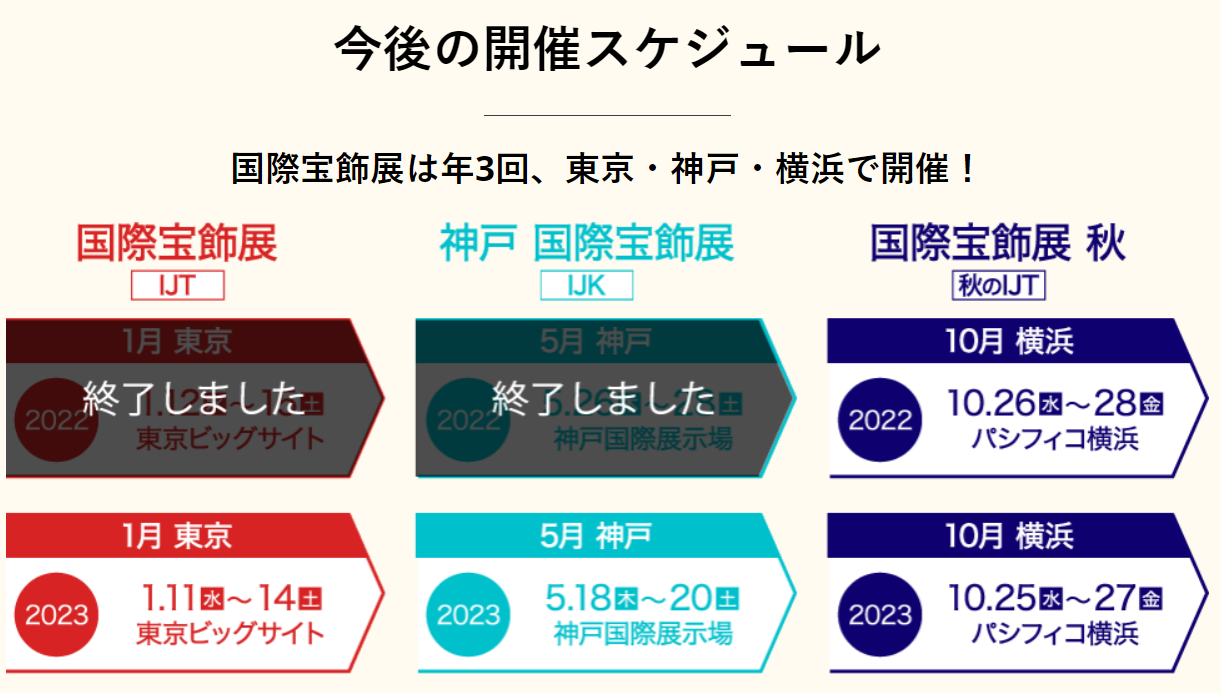 The 34th Tokyo International Jewelry Fair in 2023
Exhibition time: January 11-14, 2023 (4 days);
Venue: Big Sight Exhibition Hall, Tokyo
Exhibition scale: about 1300 exhibitors;  
Number of visitors: about 55000;
Sponsored by: Reed Exhibitions Japan Co., Ltd. Japan Jewelry Association
Organizer: Shanghai Maosheng Exhibition Service Co., Ltd. -- a Japanese exhibition brick service provider
Recommended index: Japan Drunk Professional Jewelry Exhibition
International Jewelry Exhibition
The asset management Expo (spring) is an exhibition that can find the way to save / increase money. It is possible to come to Japan from the beginners and the beginner to the advanced person as the comprehensive exhibition of the investment goods such as stock, real estate, insurance, and money.
Frx Tokyo is an independent / inaugural consultation, selection of the franchise member, and business diversification.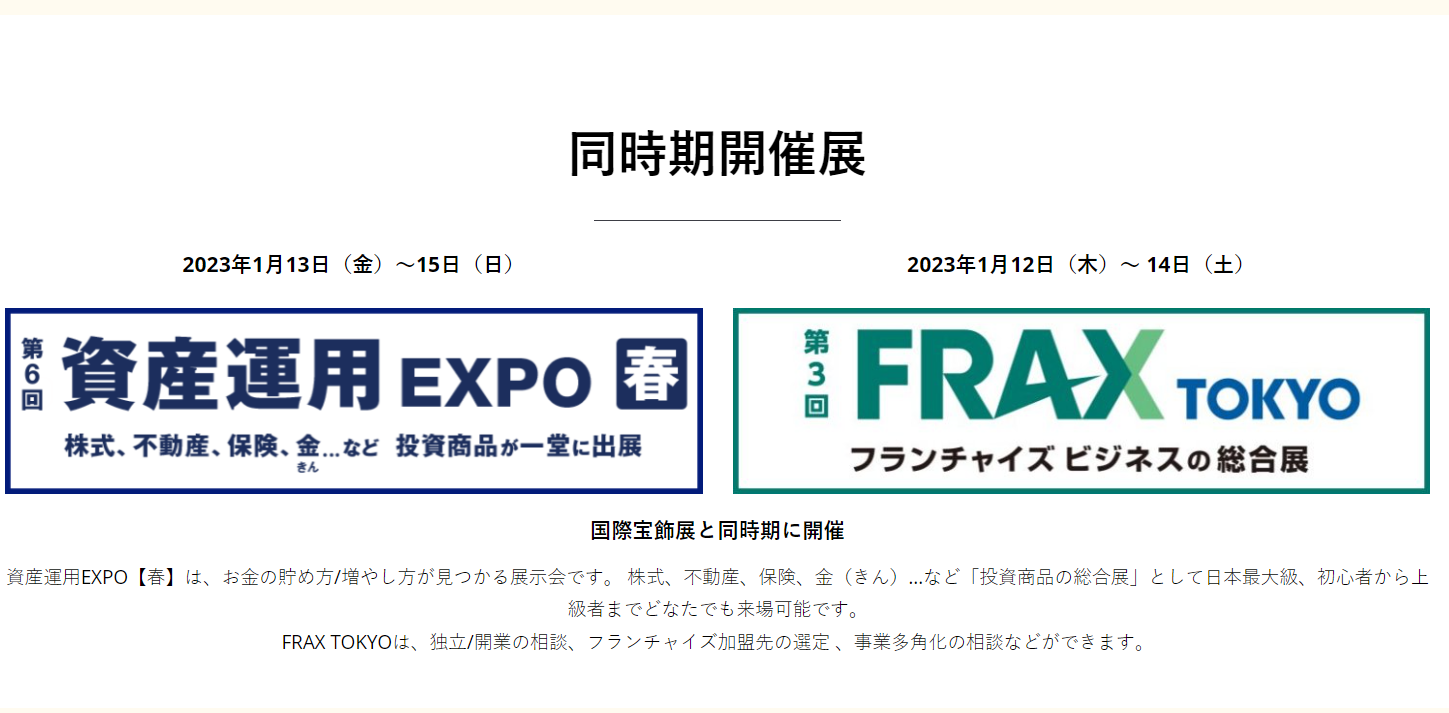 Japan's largest 「 see this city's main urging club
At the big fair fair, such as Tokyo Big site, Makuhari Messe Osaka, etc., it has been held in various industries such as jewellery, glasses, publishing, electronics, energy, it, medicine, biotechnology, and so on.
The total exhibition schedule was 363
[Exhibition Scope]
1. Jewelry products: diamond jewelry, platinum jewelry, antique jewelry, wedding jewelry, chains, necklaces, gem matching jewelry, gold jewelry, men's jewelry, brand jewelry, earrings, earrings, pearl jewelry, silver jewelry, designer jewelry, clothing, arts and crafts, etc.
2. Bare stone: diamond, sapphire, spring stone, turquoise, ruby, opal, tourmaline, agate, emerald, aquamarine, palaiba tourmaline, alexandrite, cat's eye, etc.
3. Pearls: Akoya pearls, white butterfly pearls, Mabei pearls, Nanyang pearls, freshwater pearls, black butterfly pearls, Coriolis pearls, conch pearls, etc.
4. Other gemstones: amber, turtle shell, jade coral, ivory, crystal, emerald, gem, artificial stone, etc.
5. Jewelry related products: buckles, empty frames, parts, processing instruments, tools, exhibition cabinets/displays, shop design, jewelry boxes, products for renovation, customer management systems, IT related products, security/monitoring, jewelry maintenance supplies, jewelry identification, consulting services, publications, etc.
6. OEM, update and other services.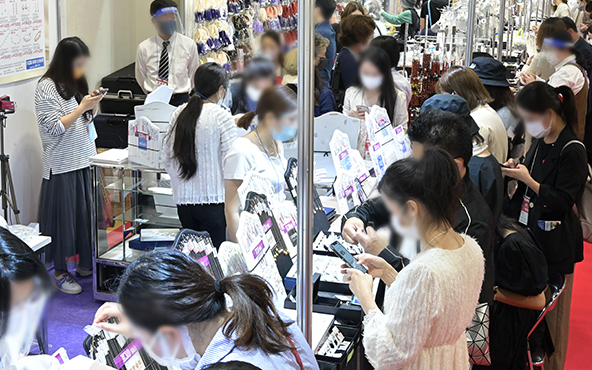 Please contact the exhibition organizer for confirmation before participating in the exhibition.
Company:Shanghai Maosheng Exhibition Co., Ltd
Telephone:18912623923
Truename:Wu Chengsong
Mobile:18912623923
Address:3-21-1 Ariake, Koto-ku, Tokyo 135-0063, Japan