2023 The 6th China (Jinan) International Youth Eye Health Industry Exhibition Booking Hotline 15668420958
Industry:

Biology / Medicine / Health

Time:

2023/05/26 - 05/28 (Fri To Sun Total 3 Days) Error Correction

Address:

Shandong Jinan International Convention and Exhibition Center ChinaShandong ProvinceJinan CityHypoephemeral region No. 1, Xinyu South Road, Hi tech Development Zone, Lixia District, Jinan

Sponsor:

Shandong Feisha International Exhibition Co., Ltd

Organizer:

Shandong Feisha International Exhibition Co., Ltd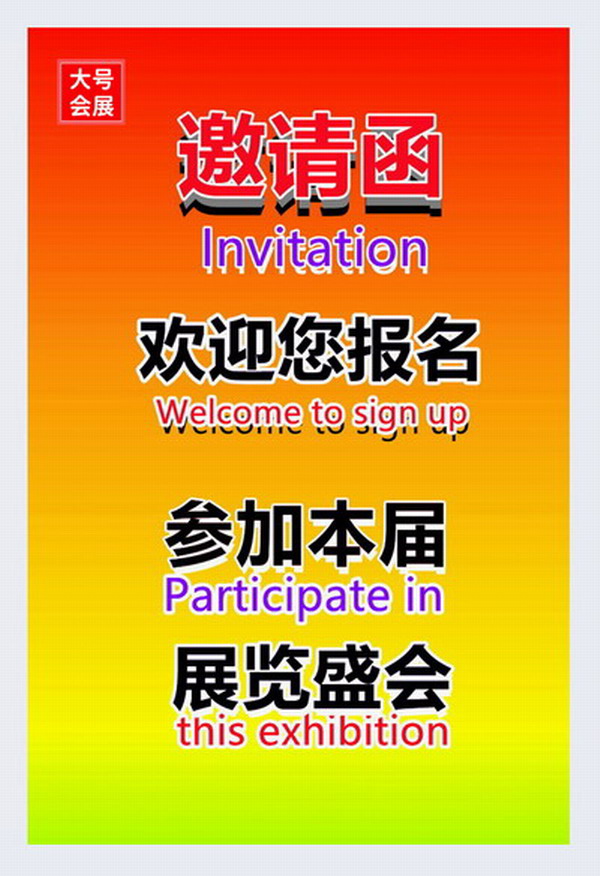 CEYEE China Eye Expo: focusing on children's and teenagers' eye health, helping eye health enterprises to expand the market;
2023 The 6th China (Jinan) International Youth Eye Health Industry Exhibition
The 2023 sixth China (Jinan) International Youth eye health industry exhibition
Date: May 26-28, 2023
Exhibition Hall: Jinan International Convention and Exhibition Center, China
Organized by: Shandong Feisha International Exhibition Co., Ltd
Launch of pre exhibition work: The leaves know the autumn, winter is coming, and spring is coming. On October 8, the annual CEYEE China Eye Expo and the sixth China (Jinan) International Youth Eye Health Industry Exhibition officially launched their pre exhibition work. This year's event will be held from May 26-28, 2023, and will continue to use the BCD Hall of Jinan International Convention and Exhibition Center. This conference is scheduled for the golden investment promotion season of the whole year, during which 700 exhibitors from home and abroad will be present, bringing together 15000 eye health products, technologies and services; Greatly enrich the eye health demand market in China, and escort the eye health of children and adolescents throughout the country. In order to further expand the international popularity and influence of CEYEE China Eye Expo, the sixth session will increase the investment of media funds and resources, and consolidate the expected benefits and purposes of enterprises' participation with media. The head of the Media Publicity Department of the Organizing Committee took the lead in soliciting 1000 cooperative media from all over the world, including 400 foreign media and 600 domestic media, Please consult the reserved phone number for detailed cooperation mode (In order to further expand the international popularity a n d influence of CEYEE China Eye Expo, the sixth session will increase the investment of media funds a n d resources, a n d consolidate the expected benefits a n d purposes of enterprises' participation with media. The head of the media publicity department of the Organizing Committee is in charge of collecting 1000 cooperative media fr om all over the world, including 400 foreign media a n d 600 domestic media. Please consult the reserved phone number for detailed cooperation mode)。 Based on the principle of "application first, payment first, arrangement first", the Booth Investment Promotion Department is now accepting booth bookings globally, and it is now time to seize the ideal booth
Increase media publicity: In order to better help the growth and development of CEYEE China Eye Expo, the Organizing Committee of the 2023 Sixth China International Youth Eye Health Industry Exhibition will increase the investment of media funds and resources. The opening of the preliminary work of the conference is a busy period for the Media Propaganda Department of the Organizing Committee. Relying on the accumulation of cooperative media that have successfully held the exhibition for many years, it will cooperate with 500 media in various industries within two weeks. The target number of cooperative media this year is 1000. Now we are soliciting cooperative media from all sectors of the world in a multi cooperation mode. Relying on the huge media, release the progress of CEYEE China Eye Expo in real time; Spread the exhibition concept and platform value, and further enhance the market coverage and breadth of CEYEE China Eye Expo. Attract cutting-edge eye health products and ophthalmic medical technologies at home and abroad to appear, and provide more possibilities for the eye rehabilitation of children and adolescents in China; Let more buyers know the time of the conference, and then come to purchase and exchange. Before the exhibition, we will actively do a good job of pre exhibition warm-up publicity for enterprises according to the order of exhibition registration, so as to attract more potential customers to negotiate cooperation and ensure the practical benefits of exhibitors.
Professional eye health event: China (Jinan) International Youth Eye Health Industry Exhibition is the only event focusing on children's and adolescents' eye health in China. Chuangzhan was held in 2019 in May every year in Jinan, China, with the theme of "Take care of children's eyes and give them a bright future", aiming to help enterprises rapidly expand the market, expand sales, shape brands, promote industrial integration and development, and promote the exchange and cooperation of eye health technologies. The self created exhibition, with the support of the competent department, has rapidly grown into a representative exhibition activity in the field of eye health in China. Each session is held, bringing together more than 10,000 domestic and foreign eye care products, vision correction, vision prevention and control, optometry equipment, ophthalmology, ophthalmic medical equipment, optometry, eye care education and other products and services, attracting tens of thousands of industrial buyers to visit. At the same time, dozens of sub industry forums and summits were held to promote in-depth exchanges among people from all walks of life in the field of eye health and jointly provide solutions for the persistent severe vision health of young people and children; Find effective solutions to problems encountered in the development of enterprises.
Eye health diagnosis and treatment: eye hospitals, hospital ophthalmology; Myopia, hyperopia, astigmatism, glaucoma, amblyopia, blindness, retinal diseases, cataracts, trachoma, etc., eye disease diagnosis and treatment services, vision correction training, artificial eye customization and rehabilitation equipment, eye health recovery center, etc;

Ophthalmic medical equipment: ophthalmic overall solutions, ophthalmic medical and technical services; Ophthalmic operating tables, ophthalmic operating microscopes, ophthalmic surgical instruments, ophthalmic diagnostic instruments, ophthalmoscopes, retinoscopes, cryotherapeutic instruments, phacoemulsifiers, eye electrophysiology, intraocular lenses, ophthalmic optical instruments, tonometers, ophthalmic physiotherapy instruments, ophthalmic disinfection products, nursing beds, disposable sanitary products and consumables; Eye rehabilitation products, eye health products, external application products, vision restoration wearing products, electronic vision restoration products, eye drops, eye ointment, Chinese and Western medicine oral drugs, etc;
Vision testing instruments and equipment: optometry, vision screening instruments and supplies, optical biometrics, computer optometry, slit lamp microscope, ophthalmic A/B ultrasound, visual field meter, corneal thickness meter, corneal curvature meter, corneal endothelial cell counter, corneal topography, fundus camera/fundus shadow, eye electrophysiology, optical coherence tomography/OCT, fundus laser, phacoemulsifier, vitreous cutter, excimer laser Femtosecond laser, etc;
Optometry equipment: comprehensive refractometer/cow's eye, computer film checker/focimeter, optometry combination table/comprehensive eye examination table, vision projector/magic lamp box, visual acuity chart lamp box, edging machine, pupil distance meter, lens, lens box, punching machine, grooving machine, etc;
Glasses (vision improvement and protection): lenses, frames; Vision correction glasses, myopia glasses, hyperopia glasses, astigmatic glasses, flat glasses, computer goggles, goggles, swimming glasses, night vision glasses, e-sports game goggles, e-sports goggles, goggles, sunglasses, sunglasses, glasses boxes, glasses disinfection and care products; Chain franchise of glasses brands, eye protection lamps, eye patches, eye masks, etc;
Other industries: barrier free articles for the blind, assistance for the blind, etc; Lens processing industrial park, eye health education, product packaging and transportation, etc;
Please contact the exhibition organizer for confirmation before participating in the exhibition.
Company:Shandong Feisha International Exhibition Co., Ltd
Truename:Ms Xu
Mobile:15668420958
Address:No. 1, Xinyu South Road, Hi tech Development Zone, Lixia District, Jinan